Social Southwest Florida: February 2022 Edition
Posted by Marcus Larrea on Thursday, January 27, 2022 at 2:38 PM
By Marcus Larrea / January 27, 2022
Comment
Don't forget to make those dinner reservations and order flowers, because February is here and love is in the air throughout Southwest Florida! Hi, it's Marcus Larrea with Palm Paradise Real Estate and boy do we have a busy month ahead of us in Southwest Florida. February is filled with a ton of local events for you and your family, your friends or your special someone to enjoy together!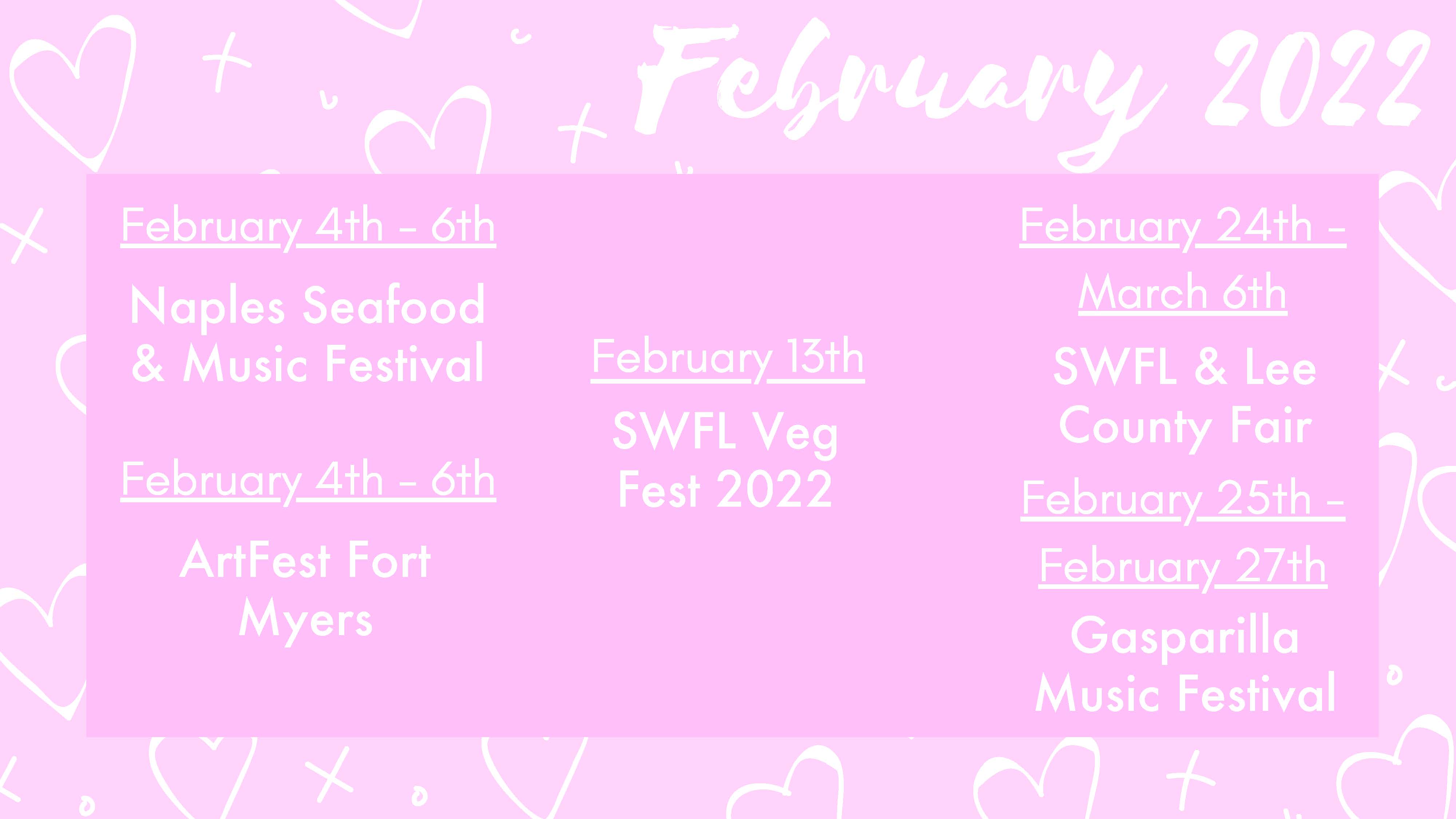 Kicking off the month of February, head to Naples, FL for the 2nd Annual Naples Seafood & Music Festival presented by the Italian American Club. Festivities begin on Friday the 4th from 4pm to 10pm and continue through Sunday the 6th from 11am until 6pm. Select from delectable foods cooked on-site, incorporating the freshest ingredients by local restaurants and food purveyors. Sit back and relax to music and entertainment while enjoying a variety of seafood entrees and beverage options or shop a marketplace of arts, crafts and fine products in-between performances at this free event!
Looking to add a splash of color to your weekend? Make your way to Downtown Fort Myers Friday, February 4th through Sunday, February 6th to enjoy this year's ArtFest Fort Myers… a free, three-day outdoor festival along the waterfront. Whether you're an art connoisseur or a have a newfound appreciation for art, you'll enjoy artwork that stretches from the canvas to the street and plenty more! Fantastic food carts, family-friendly activities, live entertainment and fabulous VIP parties create a vibrant weekend for all attendees!
Living life colorfully doesn't have to only revolve around art… it can include food too! Welcoming all vegans, vegetarians, omnivores and anyone veg-curious, the SWFL Veg Fest 2022 returns to Farmer Mike's U-Pick in Bonita Springs on Sunday, February 13th from 10am until 4pm. See how easy it is to find healthy, plant-based foods in Southwest Florida and learn more about the science behind the benefits of a plant-based diet through expert speakers, cooking demos and vendors, while enjoying entertainment, food and activities for the whole family.
Making memories since 1924, the Southwest Florida and Lee County Fair returns to the Lee Civic Center for it's 98th year of operation! With over 50 rides, hundreds of live animals and livestock to admire, multiple live shows and food vendors as far as the eye can see, this fair is one of the largest in the State of Florida. Fun for the whole family, or perfect for a date night with that someone special, the Lee County Fair is a local tradition that is bound to provide memories and special moments for years to come. Operating from Thursday, February 24th until Sunday, March 6th, pricing for tickets and admission cost can be obtained from their website.
Rounding out the month of February is a weekend that you will not want to miss at Gasparilla Music Festival 2022 on Friday, February 25th through Sunday, February 27th. Presented by Coppertail Brewing Company. Located along Tampa's waterfront, over 40 bands will perform genres ranging from Rock, to R&B and Electronic across 4 stages, with top national headliners. This festival is a great way to experience the energy of Downtown Tampa, while making unforgettable memories.
Whether you're looking to make unique memories with that special someone, try out something new, or attend an event you love with family and friends, February has an amazing variety of local activities to choose from around Southwest Florida. We love the unique events that are hosted throughout our communities, and we're grateful that we get to share them with you each month. If you have any questions about the Southwest Florida Real Estate Market, or are in need of assistance with selling or buying, visit our website at www.PalmParadiseRealEstate.com to connect with one of our experienced team members today! Or, check us out on Facebook and Instagram to get an inside look at our team! As always, thank you and have a great day everyone!